Brett A. Taylor, MD
Adult Spine Surgeon
Dr. Taylor is a board-certified orthopedic surgeon who specializes in the treatment of the spine. He is a native of St. Louis and received his Medical Degree from Harvard University. Dr. Taylor is fellowship trained in spine surgery at Thomas Jefferson University. He is a former assistant professor at Washington University and served in the US Air Force as the Chief of Spine Surgery.
Joshua Newman, M.S.,PA-C
Joshua is a board certified physician assistant and joined The Taylor Spine Team in July 2012.  He completed his training at Rosalind Franklin University of Medicine and Science in North Chicago, Illinois prior to returning to St. Louis.  He is enthusiastic about providing the highest quality spinal care to meet your needs through evidence-based medicine and patient outcomes.
Lori Burke, RN, BSN
Lori has been a long-time member of The Taylor Spine Team since 2002 and originally worked with Dr. Taylor at Barnes Hospital. She started her career at Barnes Hospital as a staff nurse and specialized in orthopedics. Her present role involves patient care in the clinic and post-operative care in the hospital. Lori has a strong background in worker's compensation and litigated cases and works closely with case managers. Lori's goal is to expedite your care and better meet your spine care needs.
Alyssa Visconti
Alyssa has been a member of The Taylor Spine Team since 2005 and functions as an administrative assistant. Alyssa works with patients to schedule appointments and tests and is very knowledgeable about the day to day functions of the office. She also has significant experience in matters involving litigation and depositions.
Tosha Hilke
Tosha has been a member of The Taylor Spine Team since 2010 and functions as a medical assistant. Tosha's role involves scheduling patient appointments, tests and organizing medical records of patients.  She is knowledgeable in the day to day key functions of the office.
How to Reach Us
Town & Country Crossing Orthopedics
884 Woods Mill Road
Suite 201
St. Louis, MO 63011
Phone: 636-227-TCCO (8226)
Fax: 636-686-9193
Directions: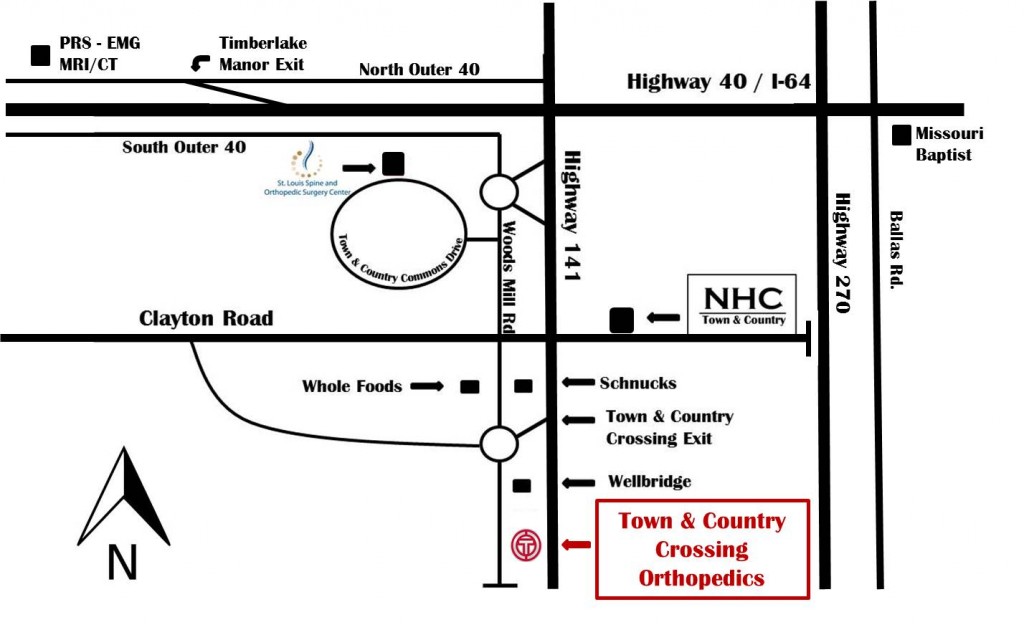 West Directions

East Directions

Highway 40/64 West
Exit 22 toward MO-141/Woods Mill Road South
Take ramp onto Mo-141 South Woods Mill Road
Exit Town and Country Crossing
Turn Right onto Town and Country Crossing Drive
Enter roundabout and take 3rd Exit onto Woods Mill Road
884 Woods Mill Road is on the left
Building has windows outlined in Red

Highway 40/64 East
Exit 22 toward MO-141/Woods Mill Road South
Stay right at fork
Merge onto MO-141 South Woods Mill Road
Exit Town and Country Crossing
Turn Right onto Town and Country Crossing Drive
Enter roundabout and take 3rd Exit onto Woods Mill Road
884 Woods Mill Road is on the left
Building has windows outlined in Red
Office Hours:
Monday 9am – 5pm
Tuesday 9am – 5pm
Wednesday 9am – 5pm
Thursday 9am – 5pm
Friday 9am – 5pm
* By appointment only